OUTDOOR LED EDGELIT LIGHT PANELS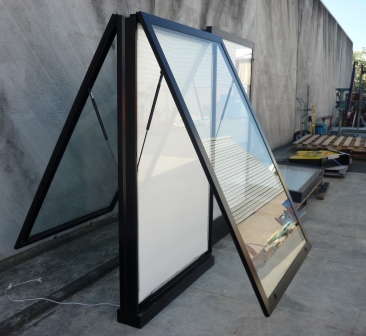 MAG Assembly Ltd announces their new range of IP67 rated outdoor edgelit light panels display stands. There are 3 models for wall mount, and free-standing in single and double. A typical size enclosure takes a standard 1200x1800mm size poster, however we can custom manufacture to any size requirement. These units are fully weatherproofed by using full-face door weatherstrip rubber seals, and two recessed camlocks at the bottom to pull the door up tightly against the seals. Another main feature is the hingeless front door allowing the door to be quickly and easily changed by one person if a damaged door needs to be replaced. Doors are hinged at the top and open to 36º allowing easy access to the top of the poster, and are supported by gas struts so they don't get caught by the wind, and also to provide for soft opening and closing. Top hinged door means that there is no water pooling at the top common with most conventional side-hinged doors. The edgelit light panels used are the exact same Vivacity edgelit panel technology used in the edgelit poster frames giving a bright 2300 Lux of illumination evenly across the entire display face without any shadowing in the centre, and are illuminated on 2 edges only using half the power of conventional panels and generating virtually no heat.
Specifications and Features:
Single and double-sided models
IP67 weatherproofing
No ventilation required and no condensation issues
Top hinging door without hinges to prevent water pooling and
ingress
Door opening from the bottom and swings up 36°
2 gas struts for door support, wind-resistance and soft opening/closing
6mm Grade A toughened glass door panel
Optional Graffiti guard coating
Poster size 1200x1800mm
R-Clip poster mounting system for fast poster changeouts
Vivacity 12VDC edgelit light panel 2300 Lux illumination
Power draw only 0.21 Amps @ 240V (single-sided)
Powdercoated or 2-Pak spray painted to any colour specification
Free-standing models include solid galvanised steel spigot base
for solid footing
Custom fabricated to any size required.