MAG SNAPFRAME:
MAG now stock our own custom designed Snapper Frame poster frame extrusion, and is a new fast and easy loading snap-frame poster display frame that is ideally suited to wall mounted displays, or on the front of lightboxes and menu boards,
We now stock our own custom designed snapframe extrusions ideally suited for fast and easy loading of replacement graphics for frequently changing applications for poster displays, lightboxes, menu boards, as well as in free-standing or hanging applications suspended on stainless wire. Our Snap Frame is a double-frame system available in Small and Large profiles, allowing for our frames to be mounted recessed or butted up against other frames or panels.
MAG Snap Frames are made from NZ made extrusion aluminium and come standard in a very high quality sheer natural anodized aluminium finish. As an option they can also be powdercoated or 2-Pak painted to any colour specification.
Our Snap Frames are fabricated at our premises using our Elumatec NC controlled aluminium extrusion upstroke saw delivering fast and precise compound mitred corners accurate to 0.1 of a degree for perfectly aligned corner joints on each Snap Frame, eliminating any light bleed through gaps in misaligned corners.
MAG Snap Frames are made out of two pieces, the inner piece is the piece that opens and snaps closed onto the poster. Unlike one-piece frames, the MAG 2 piece frame allows for frames to be butted hard up against adjoining frames or recessed into flush mounted applications so makes them ideally suited to menu-board type applications. Available in any size and in one-off quantities.
To make the Snap Frame into an Edgelit illuminated panel, an optional 3mm thick special edgelit light panel can be substituted in place of the frames 3mm backing panel which will make the display frame its own lightbox that is only 15mm deep! Edgelit panel snap frames are available in any size up to poster size 2440x1220mm.
Our Snapframes are available in 4 different configurations with sizes of front edge width as illustrated.

Mini/Mini -26mm

Mini/Standard or Standard/Mini – 33mm

Standard/Standard 42mm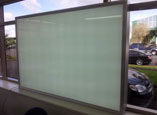 Eziloader frame on LED lightbox

Elumatec NC Upstroke Saw