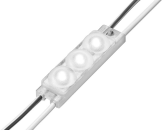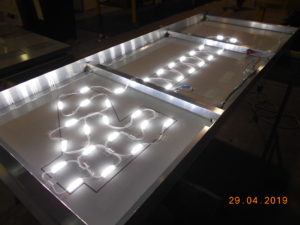 MAG Assembly is an authorized reseller of German made Tridonic LED and Drivers that have been used in various signage throughout NZ for some very high profile names and locations. The best LED's in the world are considered to be American made GE and German made Tridonic LED's.
PERFORMANCE:
Tridonic LED's are available in flexible chain at 150mm centres, and are specifically optimized for Signage applications, 7500k Crystal White colour temp LED's, are dimmable and DALI compatable.
IP68 All Tr5idonic LED's and Power Supply Drivers are IP68 waterproof and have a 5 year warranty, and LM80 tested to 50,0000 hours with a 0.2% failure rate per 1000 hours.
FLEXIBILITY:
We use these LED's and Drivers by default in all typical backlit fabricated signage applications, or you can purchase the LED's and Drivers separately from us for your own signage or lighting project.
LOWER RUNNING COSTS:
For no more than the same installation cost as fluorescent tube lighting, LED's draw significantly less power providing a faster payback of the sign costs, provide more even illumination of faces, and last significantly longer meaning that the ongoing annual maintenance costs are greatly reduced as well. See the attached example where an LED lit sign costs 83% less in annual power usage than the same fluorescent lit sign: